. High-end ID design . Exceptional HD sound with wideband technology . Up to 4 simultaneous voice calls . Up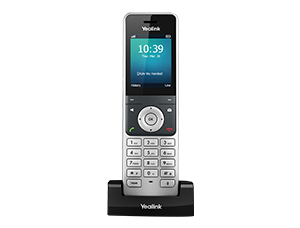 • Scalable solution with superior performance • Optimized wireless communication experience for mobile working • Easy deployment and efficient management
What is Multi-Cell DECT simply put, it means that a cordless phone can "roam" between various base stations without losing the call. 
Yealink
's Multi-Cell DECT solution allows up to 100 handsets to be connected to up to 30 base stations, all seamlessly handing over calls and allowing users to roam as they please.  Taking the DECT base station range into account (50m indoors, 300m with a clear line of sight) this provides a massive area of coverage when fully populated!  Of course, most businesses will not just deploy phones over a large flat surface, and the Yealink Multi-Cell DECT solution is ideal for bridging the coverage dead spots between multi-level buildings. Unlike Wi-Fi based cordless phones which are prone to interference and bad user experience with incorrect setup, DECT remains one of the best high voice quality, low interference and secure VoIP communication methods. Multi-Cell DECT, combined with Yealink's industry-leading design is also revolutionising the traditional office environment, by bringing DECT to your desktop phone and your boardroom, as a conference phone!  As part of the refinements expected later this year, Yealink will allow for your complete office to be connected to its Multi-Cell base solution. This is great news for both installers and end-users, as it means install times are cut down, the requirement for trenching/trunking is significantly reduced, and there's a cost-saving by not deploying ethernet cables.
Features:
Seamless handover and roaming
Up to 100 parallel calls
Up to 30 base stations
Up to 100 handsets
Up to 100 SIP accounts
Supports W53H and W56H
PoE support
Wall mount only
Benefits:
Move between base stations without losing calls
High-quality and secure DECT calls
Works with existing handsets (W53H & W56H)
Up to 100 handsets
Easily upgrade your DECT network by replacing only the base station
3 Different base station modes for all deployment sizes
Yealink W80 Key Features
Seamless handover and roaming
Up to 100 parallel calls
Up to 30 base stations
Up to 100 handsets
Up to 100 SIP accounts
Support LDAP/Remote Phonebook
Support Xsi Directory
DECT radio coverage up to 50m indoors and 300m outdoors
DECT technology: Yealink DECT technology is based on CAT-iq2.0, which focuses on high quality Audio VoIP (wideband), as well as low bit-rate data applications. But we are not compatible with any third-party DECT devices (base station, handset, etc.).
Support Opus
Support PoE
Compatible with Yealink W56H/W53H (version x.83.0.20 or later)
The system supports up to 100 handsets and 100 simultaneous calls, this solution not only ensures one call in each handset, but also allows you to get rid of the limited wireless coverage of only one base station. Meanwhile, the system works with Yealink W53H and W56H handsets with seamless roaming and handover of calls, making freely mobile communication in and between each zone achievable. The Yealink W80BDM and the W80B feature a modern, compact design as well as Yealink HD voice quality, which comes with the full-duplex technology and Opus, giving users an excellent audio experience.
Security & Stability
Based on Yealink DECT technology, W80 system provides you with both the stable call and the seamless roaming and handover. Wireless data transmission over-the-air is ensured by the DECT encryption. At the same time, TLS and SRTP play a pivotal role in secure SIP communication. Pack Yealink W80B with the powerful Grayscale Upgrade feature, when you perform upgrade for one handset, other handsets are free from this process and the whole system still runs safely.